Toolshed Technologies
Andy Hunt.
Programmer, consultant,
author and publisher.
What Am I Doing Now?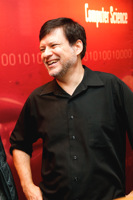 Here's a list of some current projects and interests (as of November, 2016):
Finished first draft of a new novel, Conglommora. Details coming soon. Check out conglommora.com if interested.

Working on a better way to develop software (growsmethod.com). Come and help! Private and public workshops now available, check out EffectiveAgileTeams.com for the high-level, executive version.

Publishing books I'd like to read at the Pragmatic Bookshelf (pragprog.com)

Playing trumpet, flugel horn, and keys in several local bands including a Steely Dan cover band, two jazz groups, and a honky-tonk bar band (all Raleigh/Durham area). Arranging charts for the bands.

Writing music for film trailers / commercials, mixing and mastering for friends (soundcloud.com/strange-special-air). Trying to find time to compile a better portfolio, not much posted at the moment.

Fixing up my woodwork shop! After years of neglect, re-setting up cleaning and organizing my shop.
Coming up next?
Writing Elixir and Phoenix code to manipulate MIDI in real time

Expand my Halloween project of multiple Raspberry Pi's, Arduino, pneumatics, audio and effects to a full-blown Elixir/Phoenix/OTP demonstration.

Revise my book Pragmatic Thinking & Learning

Maybe a top-secret project or two..
Thanks to my friend Derek Sivers for suggesting this page.
---
Latest News
Recent Articles
Upcoming and Recent Appearances