Toolshed Technologies
Andy Hunt.
Programmer, consultant,
author and publisher.
What Am I Doing Now?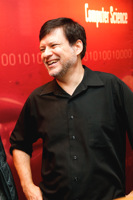 Here's a list of some current projects and interests (as of September, 2018):
My latest novel, Conglommora Found is now in print and shipping! Visit conglommora.com for details and samples.

Working on a new idea for The GROWS™ Method (growsmethod.com). The secret ingredient that "agile" missed. Come sign up if interested in success in the post-agile world.

Publishing books I'd like to read at the Pragmatic Bookshelf (pragprog.com)

Playing trumpet, flugel horn, and keys in several local bands including a Steely Dan cover band (all Raleigh/Durham area). Arranging charts for the bands.

Next big woodwork shop project: centralized dust collection.

Working on a new ambient electronic/acoustic album. Trying to find time to write music for film trailers / commercials, mixing and mastering for friends.
Coming up next?
Good question. What would you like to see? Drop me a line.
Thanks to my friend Derek Sivers for suggesting this page.
---
Latest News
Recent Articles
Upcoming and Recent Appearances