Toolshed Technologies
Andy Hunt.
Programmer, consultant,
author and publisher.
What Am I Doing Now?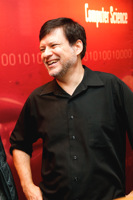 Here's a list of some current projects and interests (as of October, 2017):
My new novel is out and available in hardcover, paperback, and ebook. Visit conglommora.com for details and samples.

I sort of stalled out on my work with The GROWS™ Method (growsmethod.com). Hoping to get that going again. Is it still needed? Let me know.

Publishing books I'd like to read at the Pragmatic Bookshelf (pragprog.com)

Playing trumpet, flugel horn, and keys in several local bands including a Steely Dan cover band, two jazz groups, and a honky-tonk bar band (all Raleigh/Durham area). Arranging charts for the bands.

Writing music for film trailers / commercials, mixing and mastering for friends. Trying to find time to compile a better portfolio, not much posted at the moment.

Playing in my woodwork shop! After years of neglect, spending some happy time re-setting up, cleaning, and organizing my shop.
Coming up next?
Good question. What would you like to see? Drop me a line.
Thanks to my friend Derek Sivers for suggesting this page.
---
Latest News
Recent Articles
Upcoming and Recent Appearances