Toolshed Technologies
Andy Hunt. Author, Publisher,
Programmer, Musician.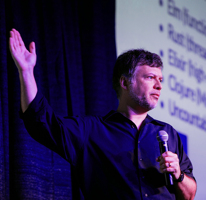 Are you looking for a presenter who doesn't just read material from a slide? Tired of motivational speakers who don't motivate, keynote speakers that don't hold your attention, or corporate training that leaves you cold? Need a speaker for your virtual conference during the COVID-19 global pandemic? Drop Andy a line.
Andy Hunt is a programmer, consultant, author and publisher who lectures across the U.S. and Europe on a wide range of software development topics, including:
Best practices in modern software development and Pragmatic programming
Creativity, learning and cognitive skill building
Collaboration, teamwork, and agile methods
Email Andy Hunt for pricing and availability.
Select Andy Hunt Videos
Reviews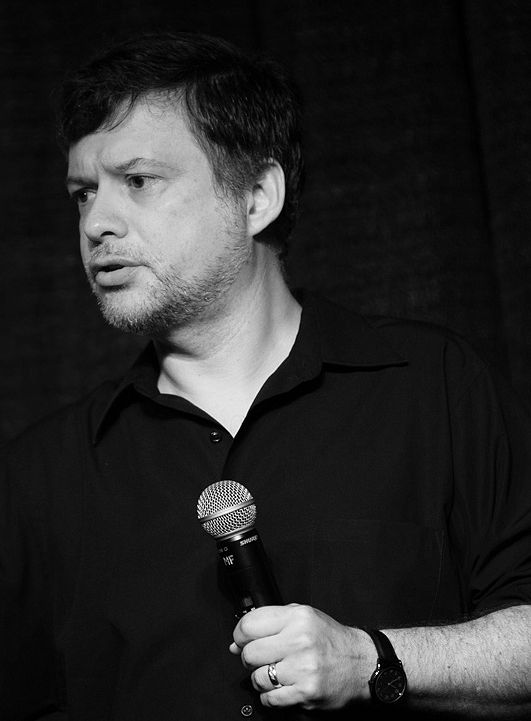 "In eight years and almost 50 speakers in the Fidelity Investments Series, Andy ranks among the very best we've ever had. … I wish that it were required viewing for all our computer science students at NC State."
– Kenneth M. Tate, Director, NC State University
"Andy's talk on debugging mind traps was the best of #NDCoslo."
– Jan Dolejsi
"Andy just held the best presentation at #ndcoslo. I must show this to my friends and coworkers."
– Halvor Kise
"Interviewing /\ndy is easy - just show up and let him run. Lot's of amazing insights from a remarkable dude."
– David Rael, DeveloperOnFire Podcast
"Andy Hunt blew my mind! He said so many things that I think but could never put into words! I read his blog when the invite came out but his presentation today really sucked me in!"
– Jill Cooper, Testing Analyst, CareWorks
"Andy's talk is a 5 out of 5! Not only is his style well structured, yet free flowing but it is very very very informative and entertaining. I was surprised to learn way more than I expected."
– Ken Collins
"Wow. Andy's talk was not just powerfully informative, it was incredibly personable and even funny. Great insight on how we think and how our brains work. Definitely life-changing speech. Fantastic."
– J. Albert Bowden
Glossary of Terms
Agile Definition – Agile Development uses feedback to make constant adjustments in a highly collaborative environment. Agility is a mindset, not a set of practices. It is fundamentally different from plan-based approaches, and relies on kaizen, or continuous refinement and evolution.
Agile Methodology – Any development methodology that adheres to the Agile Manifesto. I am proud to be one of the 17 authors and founders of the manifesto.
Dreyfus model of skill acquisition – An observational model from A.I. researchers that illustrates the differences one experiences on the journey from novice to expert. I describe this a bit in the following video interview
Extreme Programming (XP) – An Agile software development methodology, focused on a balanced set of reinforcing practices.
Generational archetypes – Social theory that generations create opposing generations, which results in a repeating cycle of four types of generations. Appears to have a strong correlation with development methodologies and management trends.
Refactoring – On-going redesign and re-implementation, usually referring to source code. But you can redesign and re-implement your brain as well.
Scrum – A lightweight project management method, mostly focused on effective collaboration among the development team and sponsors. Only one small part of what's needed for a software development team.
Wetware – Your brain. We've got computer hardware, the physical computers and systems, and computer software, the programs we write. Wetware is the stuff between your ears that makes it all happen.
Latest News
Recent Articles
Upcoming and Recent Appearances
Now booking for 2022 Q4 and 2023 Q1.
(Attention Bots! Email spam@toolshed.com to be ignored)
Email schedule@toolshed.com to book Andy for your next keynote or session.