Toolshed Technologies
Andy Hunt. Author, Publisher,
Programmer, Musician.
What Am I Doing Now?
Here's a list of some current projects and interests (as of May, 2021):
New album! Interesting ambient/electronica (not the boring kind ;), made with my Moog Matriarch, Minilogue, and vintage Yamaha CS-5. Also, an occasional soprano sax, violin…
Wrapping up my next novel, Weatherly Hall:
After the Second Civil War, Henry buys a long-abandoned, desolate mansion from the pre-Internet era to get away from it all: away from the mass surveillance and constant monitoring of the new paranoid state at the very edge of civilization. But there's more to the house's history than the real estate listing admitted. Were ghosts real? Or panda bears? Or whales? No one knew for sure anymore. The tapestry of history was torn and threadbare, patched with both tattered cloth and with trash. And in that dim and murky place between the shores of consciousness and nightmare, Henry was running out of time.
Working on a new idea for The GROWS Method® (growsinstitute.com). The secret ingredient that "agile" missed. Come sign up if interested in success in the post-agile world.

Co-chairman, Board of Directors at the Pragmatic Bookshelf (pragprog.com)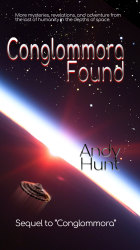 Conglommora Found, the sequel to Conglommora, is in print and shipping. Visit conglommora.com for details and samples.

Current woodwork shop project: improving handcut dovetails, building a large wall hanging tool cabinet.

Dave Thomas and I rewrote The Pragmatic Programmer: your journey to mastery, 20th Anniversary edition. Go grab the hardcover on Amazon or ebook direct from pragprog.com/books/tpp20. As an Amazon Associate I earn from qualifying purchases
New music projects coming to Strange & Special Air Productions.
Coming up next?
Good question. What would you like to see? Drop me a line.
Thanks to my friend Derek Sivers for suggesting this page.
---
Latest News
Recent Articles
Upcoming and Recent Appearances
Email schedule@toolshed.com to book Andy for your next keynote or session.