Toolshed Technologies
Andy Hunt.
Programmer, consultant,
author and publisher.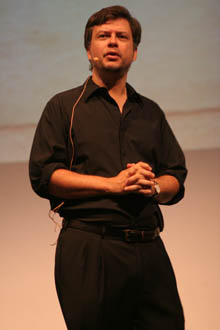 Andy Hunt is a programmer turned consultant, author and publisher. He has authored award-winning and best-selling books, including the seminal The Pragmatic Programmer and many others, including his latest, Learn to Program with Minecraft Plugins, the popular Pragmatic Thinking and Learning: Refactor Your Wetware and the Jolt-worthy Practices of An Agile Developer. His latest book is the novel Conglommora.
Andy was one of the 17 authors of the Agile Manifesto and founders of the Agile Alliance, and co-founded the Pragmatic Bookshelf, publishing award-winning and critically acclaimed books for software developers. He's currently experimenting with The GROWS™ Method.
Read Andy's favorite collected articles and essays.
Take a look at Andy's current talks and workshops.
@PragmaticAndy on Twitter
Latest News
Recent Articles
Upcoming and Recent Appearances