Toolshed Technologies
Andy Hunt
Author, Programmer, Musician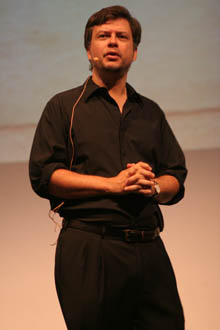 Andy Hunt is a programmer turned consultant, author and publisher. He has authored award-winning and best-selling books, including the seminal The Pragmatic Programmer (now in a new and heavily revised 20th Anniversary Edition) and many others, including the popular Pragmatic Thinking and Learning: Refactor Your Wetware, the Jolt-worthy Practices of An Agile Developer, and Learn to Program with Minecraft Plugins for the kids.
His latest books include the novel Weatherly Hall, featuring a haunted house set after the Second Civil War. And drones. He's also written the first two books set in the Conglommora universe, Conglommora and the sequel, Conglommora Found.
Andy performs music with his friends at Strange & Special Air Productions, available on Spotify, SoundCloud, and BandCamp.
Andy was one of the 17 authors of the Agile Manifesto and founders of the Agile Alliance, and co-founded the Pragmatic Bookshelf, publishing award-winning and critically acclaimed books for software developers. He's currently experimenting with The GROWS Method®.
Read Andy's favorite collected articles and essays.
Take a look at Andy's current talks and workshops.
See What Am I Doing Now? for the latest updates on Andy's many projects.
Newsletter
Every so often I send out a newsletter with my thoughts on software development, projects I'm working on, observations and comments. If you've decided to quit Twitter/X or quit Facebook, this is the best to keep in touch. You can also follow me at @PragmaticAndy@mastodon.social.
Latest News
Mastodon
You can find me on Mastodon at @PragmaticAndy@mastodon.social
Recent Articles