Toolshed Technologies
Andy Hunt.
Programmer, consultant,
author and publisher.
Andy Hunt
---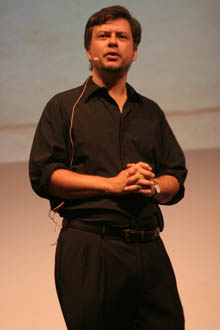 Andy Hunt is a programmer turned consultant, author and publisher. He has authored award-winning and best-selling books, including the seminal The Pragmatic Programmer and eight others, including his latest, Learn to Program with Minecraft Plugins, the popular Pragmatic Thinking and Learning: Refactor Your Wetware and the Jolt-worthy Practices of An Agile Developer.
Andy was one of the 17 founders of the Agile Alliance and authors of the Agile Manfesto; and co-founded the Pragmatic Bookshelf, publishing award-winning and critically acclaimed books for software developers.
Take a look at Andy's current talks and workshops.
@PragmaticAndy on Twitter
Recent Blog Postings
Upcoming Appearances
Private

GROWS

workshop, MD. May 5 2016
Boise State University invited lecture, Boise ID. June 23 2016
TriAgile Keynote, Raleigh NC. Jun 30 2016